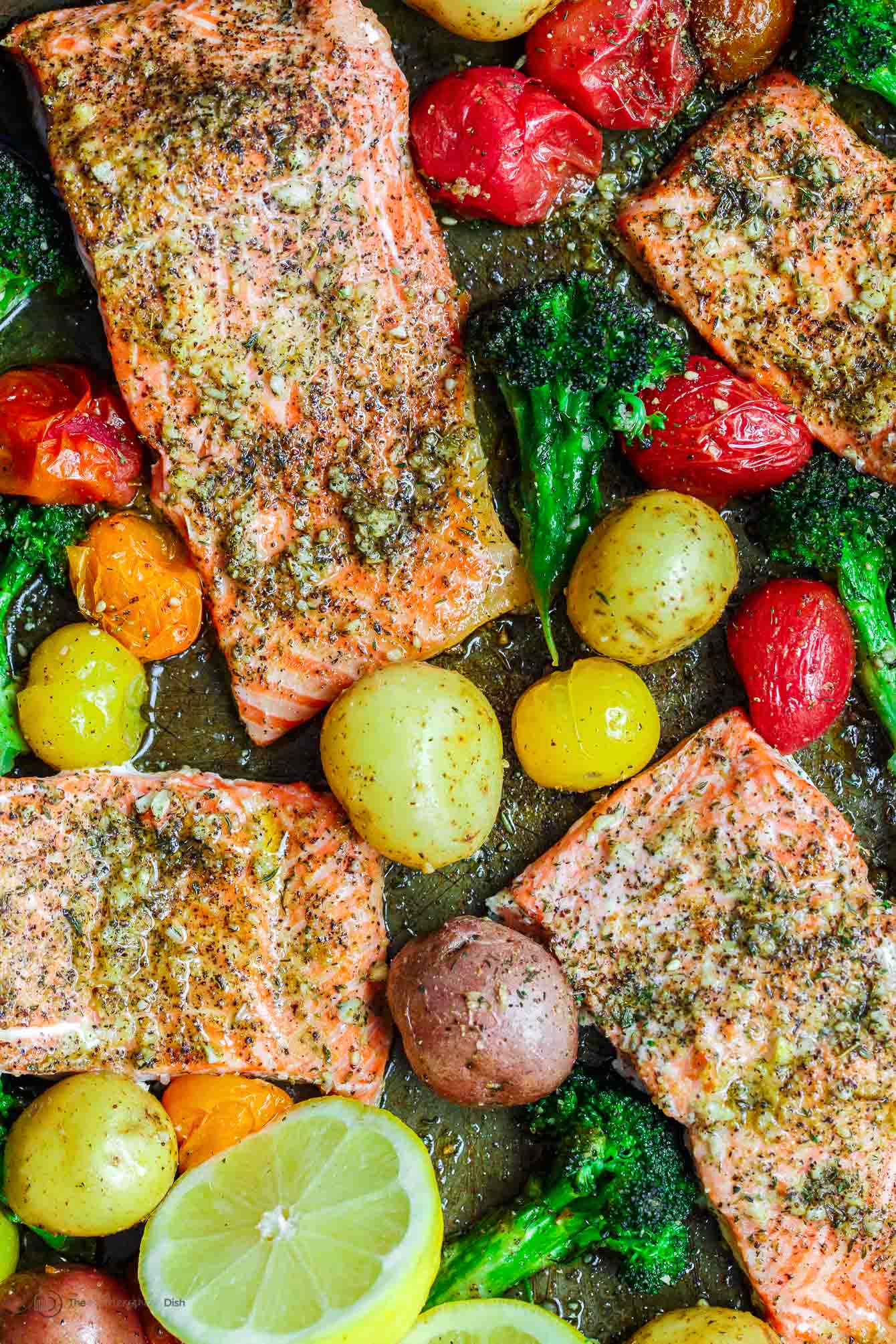 Please read my disclosure policy. This quick and easy Baked Mediterranean Salmon is loaded with your favorite Greek herbs, roasted chickpeas, and a tangy lemon yogurt sauce. Drain liquid from garbanzo beans. Add them to a large baking dish along with olive oil, oregano, rosemary, garlic, paprika, and a couple large pinches of salt and pepper. Toss to coat the garbanzo beans evenly. Place salmon fillets on top of the garbanzo beans. Drizzle with oil and sprinkle with oregano, paprika, salt and pepper.
Rating: 4 stars. Thank you again for a fabulous feast! What is your last name? Also, I gave an option for making this recipe in an ovenproof skillet by starting it on the stove and transferring the skillet to the oven to finish. I love making these for dinner, they are healthy, tasty and ready in 20 minutes. Necessary Necessary. This recipe for lemon pepper salmon reminds me a lot of my Mediterranean Diet Chicken Piccata as they both feature the great taste of lemon. Mediterranean Diet Friendly Recipes for Thanksgiving Followers of the diet know that you can eat a great meal without adding ingredients that do nothing good for you. So glad that you enjoyed this recipe, Michelle! Instructions Preheat oven to F.
Mediterranean preparing diet for salmon
Salmon is rich with important nutrients including omega 3 fatty acids. Check out our top picks of Mediterranean Diet Salmon recipes — enjoy! Paint your meals with rainbow colors! Vibrant in color and brilliant in taste, this is a dish to impress! Bruschetta is great as a bread topper, but adding it to this salmon dish is a win for flavor-packed protein. Olive oil, red wine vinegar, cucumber, lettuce, feta cheese, and avocado come together beautifully in this refreshing and crunchy delight! Mango fruit is terrific, but mango salsa is the bomb! Cooking Classy combines salmon, lime, coconut water, coconut milk, and jasmine rice for a heavenly and healthy dish. Dinner at the Zoo came up with a simple and swift recipe for Mediterranean Marinated Salmon. This dish is made using salmon, honey, soy sauce, lemon, and parsley.